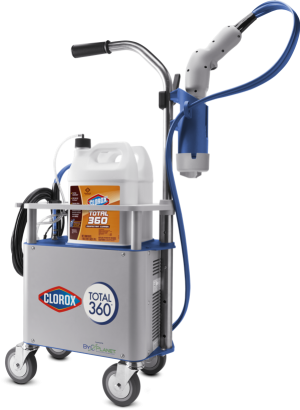 Fast COVID Disinfecting & Sanitizing Services
Ensure your hospital, manufacturing facility, warehouse, restaurant, or other commercial space is COVID-free.
Our team uses electrostatic foggers from Clorox and Victory to disinfect every surface in your facility. Additional hand-wiping by our PPE-equipped cleaners further sanitizes high-touchpoint areas like phones, doorknobs, and shared surfaces.
Our sanitation methods are CDC and EPA-approved for your safety and peace-of-mind.
FREE facility surveys available! Call (503) 850-0357 today.
Factories, fulfillment centers, fabrication facilities, and other industrial buildings aren't like offices, homes, or retail spaces. They must be kept extremely clean, not just for looks, but to prevent workspace contamination and damage to products or delicate machinery.
At Cascade Building Services, we've been providing industrial cleaning services for over 50 years– since 1961 to be precise. Hundreds of companies around Portland have trusted us to keep their industrial facilities clean and running smoothly.
Continue reading to find out more about a few of our industrial cleaning service offerings.
Our Warehouse Cleaning Services
Janitorial Services

Cleanliness starts with top-notch janitorial services. No other cleaning company can match our janitorial team's dedication and thoroughness.
We do more than just sweep, mop and take out the garbage. We'll create a special janitorial services package that fits your company's needs, no matter how big or how small. We can provide everything from a single deep clean to daily visits.
Floor Maintenance Services

In an industrial building, dust and dirt can accumulate on the floor. Lots of walking in heavy boots, big pallets, and forklifts are hard on your floors. That's why it's so important to keep on a regular floor maintenance and cleaning schedule.
No matter what material your floors our made of, we can provide a floor maintenance surface that will keep them clean and shiny. Our floor cleaners use only the best high-quality, slip-resistant products approved by Underwriter Laboratories.
Recycling Services
Did you know that you might be throwing money away? Literally. We've found that as much as 33% of trash is actually recyclable paper. Our recycling service helps you create or maintain a recycling program that actually saves you money.
We'll work with you to make sure you and your employees know what can and can't be recycled and help you develop methods for making recycling a simple, easy habit.
Each month, we'll visit your facility and check up on your recycling program. We'll also manage all of your paper recycling. We're committed to making sure that you and your team are completely satisfied with your recycling program.
Read more about all of our industrial cleaning services.
Need Daily to Weekly Industrial Building Cleaning? We Can Help.
About Cascade Building Services
When it comes to industrial buildings, you need a cleaning company that will do the job right. At Cascade Building Services, we've been serving industrial business throughout the Portland area have been relying on us since 1961.
No industrial cleaning business will be able to match our dedication. Your satisfaction is always and fully guaranteed. You'll appreciate our commitment to providing safe, secure, reliable and thorough cleaning services.
Our team members wear uniforms and identification whenever they're working at your facility. We're always training our team on new cleaning methods, technologies, and tools. It's this commitment to being Portland's leading cleaning company. We're proud of the work we do and are especially proud that over 75% of our employees have been working with us for over 8 years!
Our services are available 24/7/365. We offer flexible and customizable contracts to fit your needs. To learn more about our industrial cleaning in Portland, give us a call at (503) 691-0776, or contact us for a free no-obligation quote.
Photo Credit: ienjoysushi, WalMart, Nicolas Raymond, Michael Silberstein
Or Call Us at
(503) 691-0776