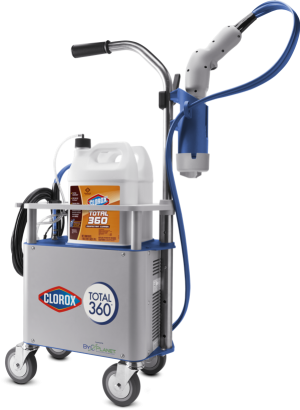 Fast COVID Disinfecting & Sanitizing Services
Ensure your hospital, manufacturing facility, warehouse, restaurant, or other commercial space is COVID-free.
Our commercial office cleaning team uses electrostatic foggers from Clorox and Victory to disinfect every surface in your facility. Additional hand-wiping by our PPE-equipped cleaners further sanitizes high-touchpoint areas like phones, doorknobs, and shared surfaces.
Our sanitation methods are CDC and EPA-approved for your safety and peace-of-mind.
FREE facility surveys available! Call (503) 850-0357 today.
Your office's appearance matters. It sends a powerful message to your customers and clients, and it also serves as a place for your employees to do their best work. If your office is dirty, dusty, disorganized, or otherwise unclean, you're letting down your customers and your employees. If you neglect your office's cleanliness, your business will suffer because of it.
At Cascade Building Services, we've been cleaning office buildings throughout the Portland area for over 50 years. Our company is the office cleaning agency that knows what it takes to make your office's first impression a great one.
Keep reading to learn more about a few of the commercial office cleaning services we can offer you and your business.
Our Office Cleaning Services
Janitorial Services

The keys to keeping an office space clean are consistency and attention to detail. Our janitorial services team can provide both. Whether your office requires a monthly deep cleaning, weekly touch ups, or daily service, we'll create an office cleaning package just for you.
We do more than sweep, mop, and take out the trash. Our team is trained to clean your office just the way you like it. We even use the latest and greatest eco-friendly cleaning supplies.
Office Carpet Cleaning Services

Your employees and your customers walk across your carpets every day of the week. That leads to plenty of wear and tear, which can reduce the lifespan of your carpet– unless you clean them regularly.
Our carpet cleaning team uses an eco-friendly and biodegradable carpet cleaner that leaves no residue behind and won't trigger asthma or allergy attacks.
Window Cleaning Services

You shouldn't notice your windows. If you do, then they're not clean enough. Your office's windows should be crystal clear and free of streaks and smears. In Portland, our rainy weather can build up a tough layer of grime unless you clean your windows frequently.
We use an eco-friendly and biodegradable window cleaner that leaves behind glass that's simply sparkling clean. In addition, as part of our window cleaning service, we'll also make sure your window sills, tracks, and ledges are clean, too.
Read more about all of our office cleaning services.
Need Daily to Weekly Cleanings For an Office Building
? We Can Help.
About Cascade Building Services
Your office needs a trustworthy, reliable, and thorough cleaning service. At Cascade Building Services, we've been trusted by businesses throughout the Portland area since 1961. There's no other cleaning company that can match our services for office cleaning in Portland, nor our level of dedication to doing the job right. Our number one goal is your satisfaction.
We believe in going the extra mile. We're continually training our team to make sure they know exactly how to provide the best office cleaning services possible. And we're proud that many of our team members have been with us for over 10 years.
We're available 24/7/365 and offer incredibly flexible and customizable cleaning packages to fit your office's needs. Give us a call at (503) 691-0776, or contact us for a free no-obligation quote.
Photo Credit: D Coetzee, Bosc d'Anjou, Michael Silberstein
Or Call Us at
(503) 691-0776