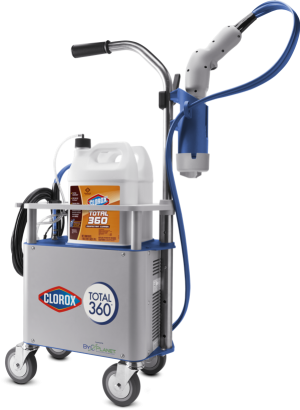 Fast COVID Disinfecting & Sanitizing Services
Ensure your hospital, manufacturing facility, warehouse, restaurant, or other commercial space is COVID-free with medical office cleaning in Portland from Cascade Building Services.
Our team uses electrostatic foggers from Clorox and Victory to disinfect every surface in your facility. Additional hand-wiping by our PPE-equipped cleaners further sanitizes high-touchpoint areas like phones, doorknobs, and shared surfaces.
Our sanitation methods are CDC and EPA-approved for your safety and peace-of-mind.
FREE facility surveys available! Call (503) 850-0357 today.
Are you a doctor, dentist, acupuncturist, massage therapist, naturopath, or other wellness professional? Do you own your own practice or clinic? Are you wondering if your clinic is being cleaned properly?
Your exam and treatment rooms need to be clean and sterile to protect your patients' health. But your waiting rooms, bathrooms, windows, and the rest of your building needs to be kept just as clean to show your commitment to your patients and make your practice inviting. At Cascade Building Services, we've been cleaning medical offices throughout the Portland area since 1961. We know how to keep your medical office clean, sanitary, and a welcoming place that instills confidence in your patients, their families, and your staff.
Keep reading to learn more about a few of the medical cleaning services we can offer your office.
Our Medical office Cleaning Services
Janitorial Services

The key to creating and maintaining a clean, safe, and inviting medical office is consistency and attention to detail. Cascade Building Services provides both.
We go the extra mile. Our team does more than just mop, sweep, and take out the trash. We're committed to sanitizing and disinfecting your medical office. Our medical facility cleaning services are completely customizable. We'll work with you to develop a cleaning plan and schedule that meets the needs of your medical office.
Carpet Cleaning Services

Dirty, grimy carpets stand out– and not in a good way. Your patients and your staff will notice them. With hundreds of people walking across them each day, carpets can wear down quickly.
In a medical office, your carpets can't smell of harsh chemicals that can trigger asthma attacks or allergies. We use an eco-friendly, biodegradable carpet cleaner that doesn't affect indoor air quality. Unlike other carpet cleaning processes, it dries in under 2 hours and leaves no residue.
Window Cleaning Services

Your medical office's window should be clear and free of smudges and streaks. Our window cleaners use a window cleaning solution that's both eco-friendly and biodegradable. It leaves behind clear, sparking glass.
Read more about all of our medical office cleaning services.
Need Daily to Weekly Cleanings For a Medical Office
? We Can Help.
About Cascade Building Services
You need a medical cleaning company you can rely on to do the job right, especially when your patients' health and happiness are at stake. Here at Cascade Building Services, we've been trusted by medical offices, banks, and other businesses throughout the Portland area for over 50 years.
Other medical office cleaners just can't match our level of commitment. We're dedicated to providing a medical cleaning service that is reliable, thorough, safe, and secure. Our team members always wear professional uniforms and identification whenever they're cleaning your hospital.
We work 24/7, 365, so we're always available and can work around your medical office's schedule.
Give us a call at (503) 691-0776, or contact us for a free no-obligation quote.
Photo Credit: Blodgett Dental Care, Michael Silberstein
Or Call Us at
(503) 691-0776