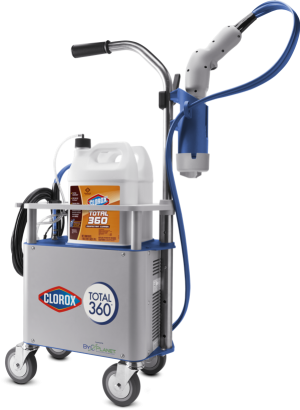 Fast COVID Disinfecting & Sanitizing Services
Ensure your hospital, manufacturing facility, warehouse, restaurant, or other commercial space is COVID-free.
Our team uses electrostatic foggers from Clorox and Victory to disinfect every surface in your facility. Additional hand-wiping by our PPE-equipped cleaners further sanitizes high-touchpoint areas like phones, doorknobs, and shared surfaces.
Our sanitation methods are CDC and EPA-approved for your safety and peace-of-mind.
FREE facility surveys available! Call (503) 850-0357 today.
A dirty, messy, unorganized, and unclean government building can erode the public's trust in their elected officials. City, county, state, and even federal government buildings can benefit from the services of a trusted and experienced commercial cleaning service.
At Cascade Building Services, we've been cleaning government buildings since 1961. We know what it takes to keep your government offices running smoothly. Keep reading to learn more about a few of the cleaning services we can offer government buildings in the Portland area.
Our Government Building Cleaning Services
Janitorial Services

A great janitorial cleaning service focuses on consistency and attention to detail. Our team provides both. Whether your government office needs a deep clean each month, daily cleanings or something in between, at Cascade Building Services, we can create a janitorial services package just for you.
Our team does more than sweep, mop, and take out the trash. We use only the best eco-friendly cleaning tools and equipment and know exactly what it takes to keep your government office building spotless.
Floor Maintenance Services

Freshly cleaned floors convey a sense of importance, power, and attention to detail. Anyone who visits your office will appreciate them, even if they don't realize it. With heavy foot traffic, the floors in your government office can wear out quickly.
When it comes to maintaining your floors, we use only the best tools for the job. Our floor cleaners use high-quality, slip-resistant products approved by Underwriter Laboratories.
Window Cleaning Services

If you notice your windows, they're not clean enough. You should never see streaks, smears, or grime. In our rainy climate, regular window cleaning isn't optional, it's essential.
Our window cleaning professionals use a window cleaning solution that's both biodegradable and eco-friendly. There's nothing left behind except for clear, sparkling glass
Read more about all of our government cleaning services.
Need Daily to Weekly Cleanings For a Government Building
? We Can Help.
About Cascade Building Services
When it comes to your government office, you need a cleaning company you can rely on to do the job right. At Cascade Building Services, we've been trusted in the Portland area since 1961.
No other company can match our dedication and commitment to providing high-quality cleaning services. We provide government building cleaning services that are reliable, thorough, and secure. When our team members are working, they always wear professional uniforms and identification. Our staff receives ongoing training, making sure they always know exactly how every job should be done..
We're proud that many of our team members have been with us at Cascade Building Services for over 10 years.
Our cleaning services are available 24/7/365 and we offer flexible and customizable cleaning packages to fit your needs. Give us a call at (503) 691-0776, or contact us for a free no-obligation quote.
Photo Credit: D Coetzee, Bosc d'Anjou, Michael Silberstein
Or Call Us at
(503) 691-0776