"I have been working with Cascade Building Services for almost four years at two different branch locations. I have always been 100% satisfied with their service. I especially appreciate their follow up and check-ins that they conduct monthly to ensure their services continue to meet all of our needs."
-Ryan K.
Sterling Bank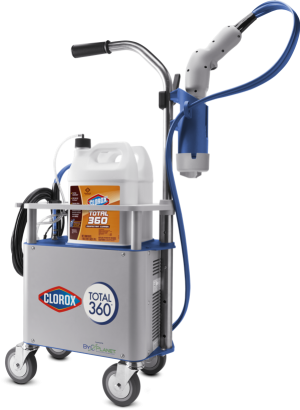 Fast COVID Disinfecting & Sanitizing Services
Ensure your hospital, manufacturing facility, warehouse, restaurant, or other commercial space is COVID-free.
Our team uses electrostatic foggers from Clorox and Victory to disinfect every surface in your facility. Additional hand-wiping by our PPE-equipped cleaners further sanitizes high-touchpoint areas like phones, doorknobs, and shared surfaces.
Our sanitation methods are CDC and EPA-approved for your safety and peace-of-mind.
FREE facility surveys available! Call (503) 850-0357 today.
Banking is built on trust. Alongside your history of providing outstanding financial services, trust comes from how customers and potential customers perceive your bank. First impressions matter. People make decisions on how they feel and what they see.
How does your bank make people feel? What do customers see when they visit your bank? Are the floors and windows spotless? Is everything perfect or is it just good enough?
At Cascade Building Services, we've been cleaning banks, hospitals, warehouses, and other commercial buildings throughout the Portland area for over 50 years. We know what it takes to make your bank's first impression a great one.
Keep reading to learn more about a few of the cleaning services we can offer your bank.
Our Bank Cleaning Services
Janitorial Services

The key to a clean space is consistency and attention to detail. We provide both. Whether your bank needs a deep cleaning once a month, weekly touch ups, or daily attention, we'll create a bank cleaning service package just for you.
There's more to what our janitorial service team does than mops, brooms, and taking out the trash. We make use of the latest eco-friendly green cleaning technologies to make sure your bank remains amazingly clean.
Floor Maintenance Services

There's nothing like gleaming, spotless, freshly cleaned floors. Your customers appreciate them, even if they don't consciously notice them. And with hundreds or thousands of people walking across them each day, floors experience more wear than anything else in your bank.
The key to maintaining beautiful floors is consistent maintenance using the best tools for the job. Our floor cleaners use only the best high-quality, slip-resistant products approved by Underwriter Laboratories.
Window Cleaning Services

A rule of thumb is that you shouldn't notice your windows. If you do, then they're not clean enough. Windows should always be clean and free of streaks and smears. Regular window cleaning is especially important in Portland, where rainy weather can slowly build up a tough layer of grime.
We use a commercial-grade window cleaner that's both eco-friendly and biodegradable. It leaves behind sparkling, clear glass. And don't worry, we'll also thoroughly clean your window sills, tracks, and ledges.
Read more about all of our bank cleaning services.
Need Daily to Weekly Cleanings For a Bank
? We Can Help.
About Cascade Building Services
When it comes to your bank, you need a cleaning company you can rely on to do the job right. At Cascade Building Services, we've been trusted by businesses in the Portland area since 1961.
We achieve a level of excellence other cleaning companies just can't match. We're dedicated to providing a bank cleaning service that is safe, secure, reliable, and thorough. Our team members wear professional uniforms and identification at all times. We provide ongoing training to our staff, making sure they know exactly what needs to be done and how to do it.
We're especially proud of the fact that many of our team members have been with us at Cascade Building Services for over 10 years.
We're available 24/7/365 and offer incredibly flexible and customizable bank cleaning contracts to fit your bank's needs. Give us a call at (503) 691-0776, or contact us for a free no-obligation quote.
Photo Credit: Calvin Hodgson, Bosc d'Anjou, Michael Silberstein
Or Call Us at
(503) 691-0776