"Cascade Building Services has worked at our school cleaning the restrooms for the past 10 years performing in an amazing fashion. Our restrooms have never been cleaner. We have thoroughly enjoyed working with each staff member that has been on our campus.
We added Cascade as our full time cleaning crew 6 years ago cleaning all 22 of our classrooms and hallways. We receive compliments daily from either faculty or parents of the cleanliness of our campus.
– Clay S., Administrator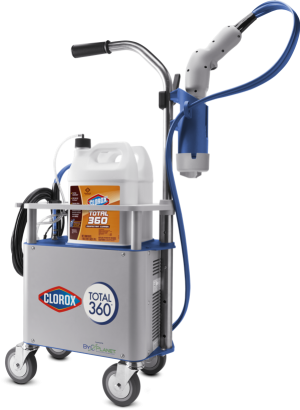 Fast COVID Disinfecting & Sanitizing Services
Ensure your hospital, manufacturing facility, warehouse, restaurant, or other commercial space is COVID-free.
Our team uses electrostatic foggers from Clorox and Victory to disinfect every surface in your facility. Additional hand-wiping by our PPE-equipped cleaners further sanitizes high-touchpoint areas like phones, doorknobs, and shared surfaces.
Our sanitation methods are CDC and EPA-approved for your safety and peace-of-mind.
FREE facility surveys available! Call (503) 850-0357 today.
Schools should be places where students are engaged and excited to learn. When students, parents, and teachers notice unclean bathrooms, classrooms, cafeterias, or other spaces, they lose confidence in the school. Show your commitment to education and your students by maintaining your school's campus.
At Cascade Building Services, we've been cleaning schools for over 50 years! Portland area schools trust us to keep their campuses beautiful all year round.
Continue reading to find out more about a few of the school cleaning services in Portland that we offer.
Our School Cleaning Services in Portland
Janitorial Services

Cleaning a school requires paying attention to the smallest details and sticking to a regular cleaning schedule. That's what our school cleaning services in Portland will do for you.
No matter how big or small your school is, we can create a janitorial cleaning service schedule that fits your needs.
And we do more than just mop, sweep, and take out the trash. We do whatever it takes to keep your school clean! Plus, we use only the best eco-friendly cleaning supplies.
Carpet Cleaning Services

Clean carpets shouldn't smell, and they definitely shouldn't smell like the strong chemicals many carpet cleaning companies use. Strong smelling chemicals can irritate allergies, trigger asthma attacks or cause other health problems for your students.
Our carpet cleaners use an eco-friendly and biodegradable carpet cleaner that leaves no residue behind. And it never damages your carpet.
Plus, it dries in only 2 hours and leaves no lingering fumes behind!
Recycling Services

Paper makes up as much as 1/3 of your school's trash each month. And much of it may be recyclable. Even if you already have an existing recycling program, our recycling services can help increase your recycling efficiency and lower your trash bill.
In addition to managing your paper recycling, our recycling service includes a monthly visit to your school. We'll check up on your recycling program and make sure that it's easy for your students and staff to recycle. We're as committed to the health of the environment as you are.
Read more about all of our school cleaning services in Portland.
Need Daily to Weekly Cleanings For a School
? We Can Help.
About Cascade Building Services
Schools throughout the Portland area have been relying on our school cleaning company since 1961. That's over 50 years!
Other school cleaning companies just can't match the variety of services we offer or our commitment to your satisfaction. Your staff and students will see the difference! All of our school cleaning services in Portland are 100% guaranteed!
For safety and security our team members always wear uniforms and identification whenever they're at your school. We're committed to using the best cleaning tools and technologies, so we're always training our team and working to provide better school janitorial service to you. Plus, we take pride knowing that 3/4 of our team have been working with us for over 8 years!
We're available 24/7/365 and offer flexible and customizable warehouse cleaning contracts to fit your school's needs. Give us a call at (503) 691-0776, or contact us for a free no-obligation quote.
Photo Credit: Mejis, Nicolas Raymond, Michael Silberstein
Or Call Us at
(503) 691-0776