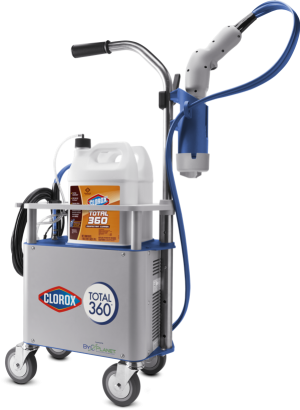 Fast COVID Disinfecting & Sanitizing Services
Ensure your hospital, manufacturing facility, warehouse, restaurant, or other commercial space is COVID-free.
Our team uses electrostatic foggers from Clorox and Victory to disinfect every surface in your facility. Additional hand-wiping by our PPE-equipped cleaners further sanitizes high-touchpoint areas like phones, doorknobs, and shared surfaces.
Our dealership cleaning methods are CDC and EPA-approved for your safety and peace-of-mind.
FREE facility surveys available! Call (503) 850-0357 today.
Selling cars is a tough, competitive business. Even the smallest advantage can make a big difference in your bottom line. If you're looking for an edge, think about the state of your showroom and your dealership's overall appearance.
Do your floors shine? Do your windows sparkle? Is every single detail cleaned perfectly? If you're not sure about the answers to these questions, then it's likely that your car dealership isn't being cleaned thoroughly or frequently enough. That's where Cascade Building Services comes in– we've been cleaning businesses throughout the Portland area for over 50 years. This is why we're your best source for auto dealership cleaning in Portland.
We're experts at cleaning everything from banks to museums, offices to hospitals. Keep reading to learn more about a few of the dealership cleaning services we can offer.
Our Car Dealership Cleaning Services
Janitorial Services

As leading automotive dealerships cleaning contractors, Cascade Building Services can provide your location with ongoing, regular janitorial services to keep it clean. Our dealership cleaning team can sweep, vacuum, mop, take out the trash, and do everything else you'd expect of a great janitorial service.
But we don't stop there. We go the extra mile to make sure your car dealership is cleaned thoroughly and regularly– without interrupting or interfering with your dealership's daily business. And we never use harsh or dangerously toxic chemicals. We use biodegradable cleaning supplies whenever possible.
Floor Maintenance Services

Bright, shiny, gleaming floors show your customers that you care about every detail. And with customers and even cars moving across your floors all day, keeping your floors in great shape can be a big job.
That's where we come in. When protecting your car dealership's floors, we use only the best, highest quality floor cleaning products from Underwriter Laboratories.
Window Cleaning Services

When someone walks by your car dealership's windows, what do they see? Do they see the car of their dreams? Or do they see streaky, splotchy, dirty windows?
Did you know rain makes windows dirtier? As it rains, particles of dirt and grime build up on your windows– and you know how much it rains in Portland. That's why you need regular window cleaning services for your car dealership.
At Cascade Building Services, we use an eco-friendly and biodegradable window cleaner that works wonders.
Read more about all of our car dealership cleaning services.
Need Daily to Weekly Car Dealership Cleaning? We Can Help.
About Cascade Building Services
At Cascade Building Services, we've been working with companies throughout the Portland area since 1961. We've been trusted by small businesses, hospitals, banks, schools, and more for over 50 years. We're committed to cleanliness and our customers' satisfaction is our top priority.
When we clean your car dealership, we use the best tools, equipment, and cleaning supplies for the job. For security purposes, our team members always wear uniforms and identification badges whenever they're working.
We're also dedicated to our team, offering ongoing education and training to help them do their very best work. In fact, many of our team members have been with us at Cascade Building Services for more than 10 years!
We're available 24/7/365 and offer incredibly flexible and customizable cleaning packages to fit your car dealership's needs. Give us a call at (503) 691-0776, or contact us for a free no-obligation quote for dealership cleaning services.
Photo Credit: Dave S., Bosc d'Anjou, Michael Silberstein
Or Call Us at
(503) 691-0776