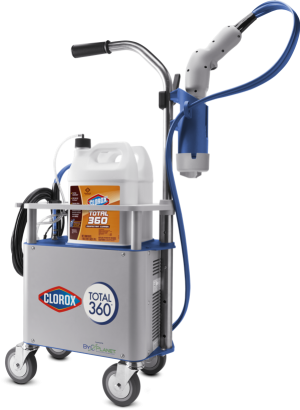 Fast COVID Disinfecting & Sanitizing Services
Ensure your hospital, manufacturing facility, warehouse, restaurant, or other commercial space is COVID-free.
Our team uses electrostatic foggers from Clorox and Victory to disinfect every surface in your facility. Additional hand-wiping by our PPE-equipped cleaners further sanitizes high-touchpoint areas like phones, doorknobs, and shared surfaces.
Our sanitation methods are CDC and EPA-approved for your safety and peace-of-mind.
FREE facility surveys available! Call (503) 850-0357 today.
Cities, towns, and municipalities of all sizes face incredible challenges. Providing essential services to their citizens and making the most of their limited budgets are just two of the many challenges they face every day.
The key to maximizing a municipality's budget is getting the most out of each dollar spent. That means finding the best, most thorough cleaning service for your city's libraries, government offices, schools, and other buildings. You need municipal cleaning services that are flexible, thorough, and dedicated to their work.
You need Cascade Building Services to provide municipal cleaning in Portland! Our team has been cleaning municipal buildings since 1961. We believe in creating flexible cleaning contracts that meet your municipality's needs. We're honest and upfront and there are never any hidden charges.

Keep reading to learn more about a few of the cleaning services we can offer municipalities in the Portland area.
Our Building Cleaning Services for Municipalities
Janitorial Services

Our janitorial cleaning team provides both consistency and attention to detail. We work when you need us– whether that's every day, once a month or a few times a year, Cascade Building Services can create a janitorial cleaning contract for you.
We do more than just sweep and take out the trash. Our team uses eco-friendly cleaning supplies and will clean your buildings just the way you like them. Your satisfaction is our #1 priority.
Floor Maintenance Services

The floors in your municipal buildings experience more wear than you can imagine. Thousands of people walk across them every day, leaving behind dirt, scuff marks and who knows what else.
Our floor maintenance team uses only the best tools and cleaning supplies. We only use high-quality, slip-resistant products approved by Underwriter Laboratories. You'll be able to see the difference.
Window Cleaning Services

Our region's rainy climate is tough on windows. Rain leaves behind streaks and dirt that must be cleaned– even during the winter. Our window cleaners use a biodegradable and eco-friendly window washing solution that doesn't streak or smear. We don't leave anything behind– except for beautiful glass!
Learn More
Read more about all of our municipal cleaning services. 
Need Daily to Weekly Cleanings For a Municipal Building
? We Can Help.
About Cascade Building Services
When it comes to your city or town, you need to find a cleaning company you can rely on to do the job right. At Cascade Building Services, we've been trusted throughout the Portland area since 1961.
There's no other cleaning company that can match our dedication and commitment to excellence. Our work is always reliable, thorough, safe, and secure. Whenever our team members are at work, they wear professional uniforms and ID badges for your peace of mind.
Our cleaning services are available 24/7/365 and we offer flexible and customizable cleaning packages to fit your needs. Give us a call at (503) 691-0776, or contact us for a free no-obligation quote.
Photo Credit: Bruce Fingerhood, Bosc d'Anjou, Michael Silberstein
Or Call Us at
(503) 691-0776