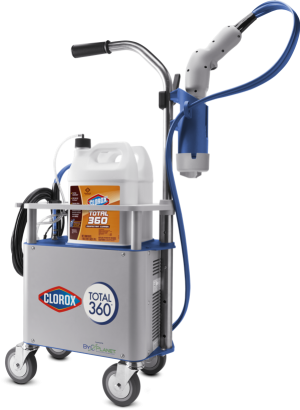 Fast COVID Disinfecting & Sanitizing Services
Ensure your condo or apartment buildings are clean and COVID-free.
Our team uses electrostatic foggers from Clorox and Victory to disinfect every surface in your buildings. Additional hand-wiping by our PPE-equipped cleaners further sanitizes high-touchpoint areas like phones, doorknobs, and shared surfaces.
Our sanitation methods are CDC and EPA-approved for your safety and peace-of-mind.
FREE surveys available! Call (503) 850-0357 today.
Whether you're on the board of your condominium building's homeowners association, or own or manage an apartment complex, you need to make sure the common areas of your building are being cleaned properly. And you need to make sure that each unit receives a deep apartment cleaning before a new tenant moves in.
If you neglect cleaning your condo or apartment complex, the occupants of your building will be unhappy, your property value may suffer, and your building may become a less desirable destination for new occupants.
Keeping your building clean doesn't have to be hard. In fact, at Cascade Building Services, we make it downright easy through our apartment cleaning in Portland. We've been cleaning apartment complexes and condo buildings for over 50 years.
Keep reading to learn more about a few of the condo and apartment deep cleaning service options we can offer you and your building.
Our Condo & Apartment Cleaning Services
Janitorial Services

The best janitorial professionals are the ones you don't notice. Our team can clean anytime, 24/7/365. That means we can come in at night, clean your apartment complex's common areas, and be out before morning.
Your building's occupants won't even know we were there. They'll just love how clean and fresh everything is!
We use only eco-friendly and biodegradable apartment cleaning products. You'll actually love how they smell! Whether you need us to come by every night or just a few times a year (or anything in between), we can create a janitorial services package just for you.
Carpet Cleaning Services

Nothing's worse than dirty, dingy, worn-out carpets. Except maybe carpet cleaners who use harsh, toxic chemicals that can trigger asthma attacks and allergies.
Luckily we use green carpet cleaning tools and equipment that leave no residue behind. They even dry quickly!
Window Cleaning Services
What's a beautiful view worth if you're looking at it through dirty, stained windows?
Our window cleaners use an environmentally-friendly cleaning solution that's tough enough to break down the dirt and grime that accumulates on otherwise beautiful windows.
We never leave behind streaks, smears, or smudges. Only clear, beautiful glass.
Read more about all of our cleaning services for apartments and condos.
Need Daily to Weekly Cleanings For an Apartment or Condo
? We Can Help.
About Cascade Building Services
Your complex or buildings need trustworthy, reliable, and thorough apartment cleaning services. At Cascade Building Services, we've been trusted by businesses throughout the Portland area since 1961. No other apartment cleaning company can match our level of dedication to doing the job right. Your complete satisfaction is always our top priority.
We always go the extra mile. We're continually training our team so they know exactly how to provide the best cleaning services possible. And we're proud that many of our team members have been with us for over 10 years.
We're available 24/7/365 and offer incredibly flexible and customizable cleaning packages to fit your building's needs. Give us a call at (503) 691-0776, or contact us for a free no-obligation condo cleaning quote.
Photo Credit: Tony Webster, Michael Silberstein
Or Call Us at
(503) 691-0776