COVID-19 Electrostatic Spraying & Cleaning Services
Our team is able to clean and disinfect ANY surface in your factory, warehouse, shipping department, or manufacturing facility. We use Clorox 360 and Victory electrostatic sprayers that are 100% effective when used to clean high-touch surfaces, including:
Electronics
Manufacturing equipment
Industrial equipment
Doorknobs and sink handles
Electrostatic spraying relies on an electrical charge that causes our CDC and EPA-approved cleaning solutions to "adhere" to the entire surface of an object. This makes our cleanings much more effective than hand wiping or chemical fogging alone.
Day Porter Services for Manufacturers
In addition to COVID-19 cleaning for manufacturing facilities, our PPE-equipped team can provide on-site day porters. These experienced and trained professionals clean and disinfect:
Breakrooms
Bathrooms
Forklifts and pallet jacks
Any other high-touch surfaces
Janitorial Services for Manufacturers
Since 1961, Cascade Building Services has been the premier provider of janitorial services for manufacturing facilities throughout the Pacific Northwest. We offer custom cleaning packages designed to meet the needs of your facility.
Our team has been recognized for our:
Attention to detail
Top-notch quality control
24/7/365 availability
100% satisfaction guarantee
Above all else, we are completely committed to working safely and protecting your staff from COVID-19.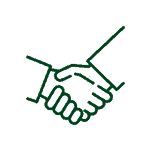 100% Satisfaction Guarantee


We are available to clean, sanitize, and disinfect:
We serve the Pacific Northwest
About Cascade Building Services
For over 50 years, we've done the right thing for our customers and our community. We offer reasonable, honest, and reliable quotes for our manufacturing janitorial services in the Pacific Northwest.
We encourage you to contact us today to learn more about our janitorial services for your manufacturing or industrial facility.
Our proactive approach will give you the peace of mind needed to get through this unique and challenging time.
Frequently Asked Questions
How long can we get back to work after electrostatic spraying?
The best part about our electrostatic spraying service is that it works quickly. In most cases, your team can get back to work 30 minutes after we've finished disinfecting.
Is Cascade Building Services an eco-friendly cleaning company?
Yes! We are committed to using eco-friendly and sustainable cleaning products. That said, it's important to remember that all of our cleaning products are EPA and CDC certified. We provide the cleanest and safest results possible while minimizing our effect on the environment.
What other services do you offer?
In addition to janitorial services for manufacturing facilities, we offer a variety of other services, including: