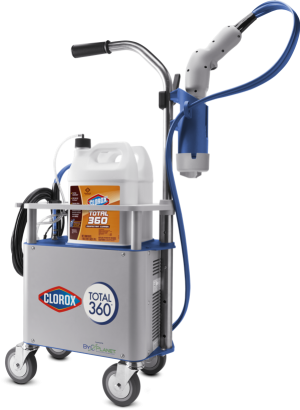 Fast COVID Disinfecting & Sanitizing Services
Ensure your hospital, manufacturing facility, warehouse, restaurant, or other commercial space is COVID-free.
Our team uses electrostatic foggers from Clorox and Victory to disinfect every surface in your facility. Additional hand-wiping by our PPE-equipped cleaners further sanitizes high-touchpoint areas like phones, doorknobs, and shared surfaces.
Our sanitation methods are CDC and EPA-approved for your safety and peace-of-mind.
FREE facility surveys available! Call (503) 850-0357 today.
Ah, the Pacific Northwest. 50 years ago, who would've thought that it would become the wine powerhouse that it is today? But a perfect storm of ideal weather, fertile soil, and a growing thirst for pinot noir have resulted in nearly 200 wineries calling the Willamette Valley and Portland home.
Owning a winery is like running a science lab, a hospitality business, and a beverage distribution service, all at the same time. There are so many moving parts, it can be hard to keep up, especially when it comes to keeping your winery clean. The more clean and organized your winery appears, the happier your customers will be and the smoother your production process will run.
Continue reading to find out more about a few of the winery cleaning services that we offer here at Cascade Building Services. We've been serving the Portland area since 1961– over 40 years.
Our Winery Cleaning Services
Janitorial Services

Our janitorial team does more than take out the garbage and sweep the floors. They clean your winery the way you want it to be cleaned and they don't stop until you're satisfied with their work.
Their flexibility, determination, and attention to detail help us to provide the best janitorial cleaning services in all of Portland. Our cleaning packages are flexible and can be tailored to meet the needs of any winery.
Recycling Services

How's your recycling program going? Are your employees confused by what needs to be recycled? Are you worried that you're throwing money away by not recycling as much as you could be?
We're here to help. We'll help you set up and optimize a recycling program that works for your winery. We'll increase your recycling efficiency and lower your trash bill.
We'll manage all of your paper recycling and our recycling service includes a monthly visit to your winery. We'll check up on your recycling program and make sure things are running smoothly.
We're as committed to the health of the environment as you are.
Read more about all of our winery cleaning services.
Need Daily to Weekly Cleanings For a Winery
? We Can Help.
About Cascade Building Services
Cascade Building Services has been cleaning businesses throughout the Portland area since 1961. There's no other commercial cleaning company that can match the variety of services that we offer local wineries. All of our winery cleaning services are 100% satisfaction guaranteed.
For safety, security, and your peace of mind, our team members always wear uniforms and identification whenever they're at your winery. We use only the best and most eco-friendly cleaning supplies and make sure our team receives ongoing training in the latest cleaning technologies and methods.
We're available 24/7/365 and offer flexible and customizable warehouse cleaning contracts to fit your winery's needs. Give us a call at (503) 691-0776, or contact us for a free no-obligation quote.
Photo Credits: Sheila Sund, Nicolas Raymond, Michael Silberstein
Or Call Us at
(503) 691-0776